As the COVID-19 pandemic grew and quickly took hold of the world, one of the biggest challenges in the response efforts was determining the most effective approach to monitoring the virus's spread. That task has become all the more critical as regional and national governments have been tasked with balancing the protection of public health against the reality that society is ill-equipped to handle a prolonged shutdown.
Even as rapid research led to more efficient testing methods, early efforts to detect SARS-CoV-2 – the virus that causes COVID-19 – were hampered by a lack of available materials approved by public health agencies such as the CDC and WHO. Questions quickly arose as to whether more widely available sampling supplies were viable alternatives.
To address these questions, a team of researchers at the Center for Microbiome Innovation at UC San Diego set out to determine whether consumer-grade materials were a safe replacement, as well as testing whether alternative storage solutions were viable options for preserving and transporting samples. Their findings, titled "Feasibility of using alternative swabs and storage solutions for paired SARS-CoV-2 detection and microbiome analysis in the hospital environment," were published in Microbiome Journal on January 22, 2021.
"One of the main problems at the beginning of the pandemic in the US was supply chain shortages. Since medical- and research-grade swabs are used for sample collection during testing, we wanted to determine if consumer-grade swabs were a possible option for COVID-19 screening and testing," according to Jeremiah J Minich of the Scripps Institute of Oceanography at UC San Diego, one of the paper's lead authors.
The study approached this problem by performing a series of viral detection experiments using five different consumer-grade swabs composed of varying materials, as well as one CDC-approved swab as a control. All of the swabs were then placed in 95% ethanol and evaluated in terms of RNase activity.
Prior to this study, it was generally believed that consumer-grade swabs would contain too many contaminants to serve as sampling materials effectively. "However, our work showed that, at least in the case of SARS-CoV-2 detection, wooden-shafted and cotton-tipped swabs are suitable, provided the material is extracted from the swab head itself rather than relying on the material to be present in the surrounding fluid which is typically assessed for viral presence" noted corresponding author Austin D. Swafford, Director of Research-Innovations at the Center for Microbiome Innovation.
These findings are a boon to government and health agencies in their work to safely reopen educational and economic sectors of society. The ability to monitor the built environment for the virus using readily available materials allows for orders of magnitude more testing than previously thought.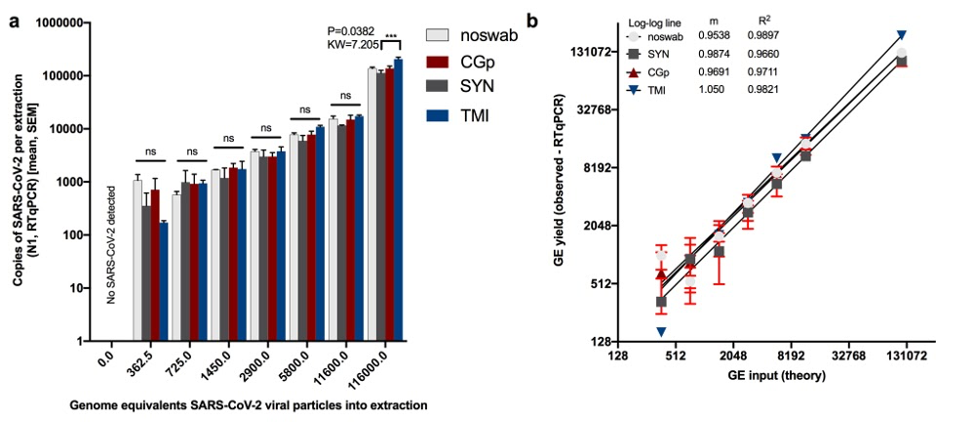 "As we continue our efforts to monitor the environment for SARS-CoV-2 in public settings such as our hospitals, campus, and K-12 schools, we seek to provide a path to scalable, affordable monitoring. Consumer-grade surface swabs will enable a wider range of applications where the deployment of clinical-grade materials is not economically feasible," said co-author Rob Knight, professor and director of the Center for Microbiome Innovation at UC San Diego. Those efforts are expected to pay dividends quickly via UC San Diego's Safer at School Early Alert (SASEA) program. SASEA will soon be utilizing inexpensive and readily available surface detection methods – informed largely by this study's results – to help provide a safe path for San Diego-area students to return to their classrooms.
While the paper's findings have wide-ranging implications, the benefits of deploying consumer-grade supplies to detect the virus are particularly significant in developing nations, where supply chain shortages presented even greater logistical challenges. Dr. Miguel Angel Garcia Bereguiain, of Universidad de Las Americas in Quito, Ecuador, noted the implications for his nation's response to the pandemic. "Ecuador has experienced supply shortages at different levels of SARS-CoV-2 diagnosis, from swabs to PCR kits. During the swab shortage, public health authorities could have asked local producers to provide cotton swabs to avoid diagnosis disruption," he commented. "With this new information available, hopefully in the coming future, this problem will be avoided."
Following this research, there are further ongoing studies centered upon expanding and refining the ability to detect SARS-CoV-2 in the built environment as a means of reducing the pandemic's spread, as well as better informing the response to future viral threats. "Hopefully, the lessons we've learned here can help set the stage for a more rapid, affordable, and widespread, perhaps citizen-scientist accessible, response to monitoring and combating current and future outbreaks," Swafford added when discussing the study's conclusions.
Additional co-authors include Farhana Ali, Clarisse Marotz, Pedro Belda-Ferre, Leslie Chiang, Justin P. Shaffer, Carolina S. Carpenter, Daniel McDonald, Jack Gilbert, Sarah M. Allard, Eric E Allen, and Daniel A. Sweeney, all at UC San Diego.
The Center for Microbiome Innovation is proud to include Jack Gilbert and Eric E Allen as faculty members, as well as Rob Knight and Austin D Swafford on its leadership team.
This piece was written by CMI's contributing editor Cassidy Symons